COVID-19 is a contagious respiratory illness caused by infection with a new coronavirus (called SARS-CoV-2, the virus that causes COVID-19). Seasonal allergies triggered by airborne pollen can lead to seasonal allergic rhinitis, which affects the nose and sinuses, and seasonal allergic conjunctivitis, which affects the eyes.
COVID-19 and seasonal allergies share many symptoms, but there are some key differences between the two. For example, COVID-19 can cause fever, which is not a common symptom of seasonal allergies. The image below compares symptoms caused by allergies and COVID-19.
Because some of the symptoms of COVID-19 and seasonal allergies are similar, it may be difficult to tell the difference between them, and you may need to get a test to confirm your diagnosis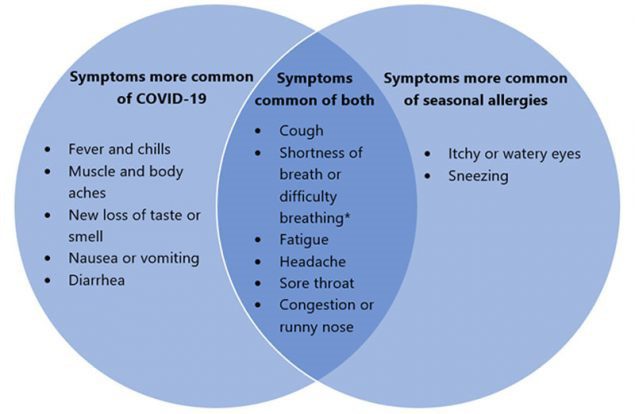 *Seasonal allergies do not usually cause shortness of breath or difficulty breathing, unless a person has a respiratory condition such as asthma that can be triggered by exposure to pollen.
This is not a complete list of all possible symptoms of COVID-19 or seasonal allergies. Symptoms vary from person to person and range from mild to severe. You can have symptoms of both COVID-19 and seasonal allergies at the same time.
If you think you have COVID-19, OneSource Healthcare offers drive-thru Covid-19 testing in Albany and Bainbridge. In most cases, you can have you test results within minutes. Appointments are required. Schedule an Appointment today.